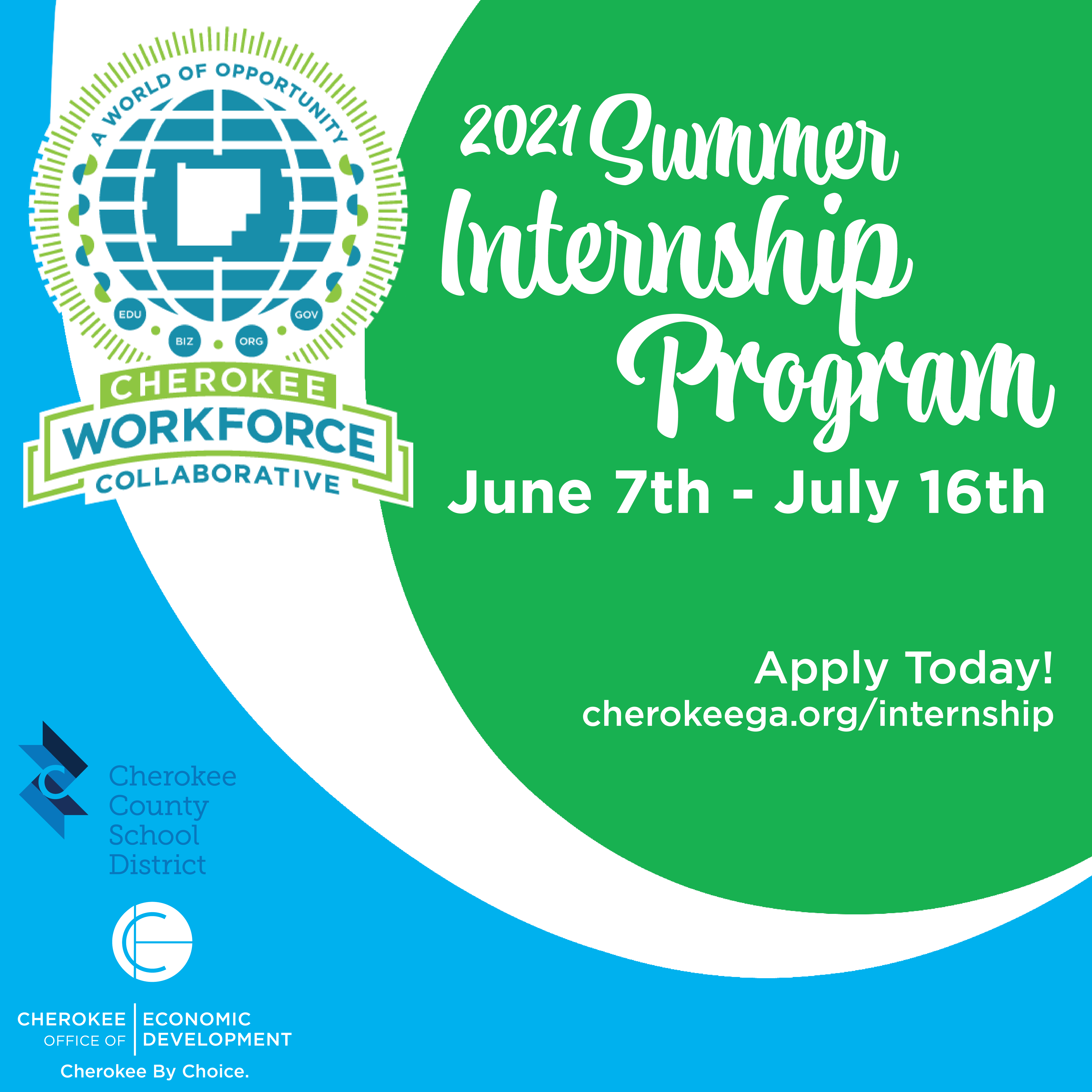 Want to get paid for gaining real-world experience and networking with some of Cherokee's top employers? Then the Cherokee Summer Internship Program may be the right fit for you! This competitive 6-week program is open to all rising high school juniors and seniors who are interested in taking their skills to the next level. Graduating seniors are also invited to apply. This interactive, mentorship-based programs runs from June 7 – July 16, 2021.
Cherokee Summer Internship Program Benefits
6 weeks of paid, real-world experience
Welcome orientation/employability skills
An interactive work environment focused on mentorship
Early exposure to a wide range of career pathways
References for a job well done
Invaluable, resume-building work experience
A rewarding summer job close to home
How to apply?
To apply, click HERE. Important: All applications must be signed by both the applicant and a parent to be considered.  Additionally, applicants must write a short 200-400 word statement on why they want to be considered for the program as part of the application process. If you don't see a position you are interested in now, please continue to check back. We anticipate additional internship opportunities becoming available soon.
2021 Employers
Internship #1: Administrative Assistant/Receptionist 
Sector: Manufacturing
Location: Ball Ground
Work Schedule: Flexible, open to full or part-time
Total Hours per week: flexible
Pay: $10
Roles & Responsibilities:
Greet visitors
Receive and distribute faxes, mail, and packages
Assist Admin Department members
Organize supply room and keep tidy
Outgoing mail, UPS, FedEx shipments
Update automated phone messaging for holidays, closings
Data entry, filing, mass mailings, coordination of lunches for events
Qualifications
Familiar with Microsoft Office Word, Excel, Outlook
Basic data entry skills
Internship #2: Shop/CNC, Robotic Welding, Laser
Sector: Manufacturing
Location: Ball Ground
Pay: $12 per hour
Hours: Flexible
Roles & Responsibilities:
Under instruction/supervision – daily operation of laser cutter, robotic welding machine, and CNC operation to produce components of signs, awnings, trellises, and canopy frames
Use of basic measuring tools: calipers, tape measure, etc.
Develop the ability to read architectural drawings
Operate small power tools
Qualifications and education requirements
Use of basic measuring tools, calipers, basic hand tools
Ability or aptitude to read architectural drawings
Internship: Summer Camp Counselor
Sector: Government/Recreation
Days Needed: Monday – Friday (8 hour shift during the hours of 7 am – 6 pm) Up to 40 hours a week
Roles & Responsibilities:
Working with children
Leadership or leading and being a good role model
Working within an education (formal or informal) or recreation field
16 years of age or older
Ability to pass a Cherokee County background check and drug screening
Internship Position: Mechanical Assembler 
Days Needed: 2-5
Hours: Flexible
Pay: $10 per hour
Roles & Responsibilities:
Inkjet printer assembly
Assemble various components of commercial inkjet printers and other machinery
Reading assembly drawings and using small power tools t build to specifications
Qualifications
Hands-on mechanical construction and working with tools
Engineering design, mechanical drawing
Machinery repair
Internship Position: Machine Assistant 
Sector: Manufacturing
Pay: $10
Work schedule: 7 am – 3:45 Monday – Friday
Role & Responsibilities:
Feeding corrugated sheets into the machine
Putting pizza bundles through a shrink tunnel
Learning machine safety, food safety, and good manufacturing practices
Daily cleaning of warehouse
Qualifications:
Strong work ethic
Punctuality
Able to be on feet for 8 hours a day and lift 40 Ibs
Internship Position: Millwork Worker – Must be 18 to apply
Sector: Manufacturing/Construction
Days Needed: Full-time/Summer  | 7 am – 4 pm or 8 pm – 5 pm (40 hours)
Pay: $10 per hour
Roles and Responsibilities: Entry level work in a full millwork shop – cabinet assembly, may consist of some cleaning work
Qualifications and Education:
Prompt attendance
Able to lift 50 lbs.
Must wear steel-toed boots and safety glasses
Interest in woodworking and how things are designed
Skills to be learned:
Introduction to architectural millwork
Observation of CNC Routers
Edge banding machinery
Internship Position: Production Apprentice  (5 positions available)
Sector: Manufacturing
Days Needed: Full time M – T: 7:15 am – 4:30 pm | Friday 7:00 am – 11:00 am
Pay $10
Roles & Responsibilities:
Train and work hands-on in multiple departments and production roles gaining experience and knowledge on the production process.
Assemble wire harnesses and assemblies following work instructions, CAD prints, and drawings.
Inspect and test assemblies to ensure all parts meet quality standards and customer specifications.
Assist quality engineers in tool calibration and quality assurance projects.
Assist hands-on in other production support departments as assigned.
Qualifications
All candidates must be at least 16 years of age
Must be 18 years of age to operate machinery
Moderate knowledge of standard and metric systems of measurement
Basic knowledge of Microsoft Office Suite
Ability to work at a fast pace
Must have good time management skills.
Must be willing to follow Roytec's Safety Policy and all safety requirements on the plant floor
Must be able to stand for extended periods of time
Must be able to lift 25 lbs
Must be able to walk, life, carry, twist, reach, pull, and rotate shoulders and hold small objects
Internship Position #1: Accounting Intern 
Sector: Manufacturing
Location: Canton, GA
Days Needed: M-F (Flexible 20-40 hours per week)
Pay: $11 Hour
Roles  Responsibilities:
Computing, classifying and recording numerical data to keep financial records complete
In a routine calculating, posting, and verifying duties to obtain primary financial data in maintaining accounting records
Checking the accuracy of figures, calculations, and postings pertaining to business transactions recorded by other workers
Comply with federal, state, and company policies, procedures, and regulations
Qualifications:
Using math to solve problems
Listening to others, not interrupting, and asking good questions
Noticing a problem and figuring out the best way to solve it
Great communicator/customer relations
Attention to detail
Adaptability/flexibility
Internship Position #2: Human Resources Intern (minimum age 16)
Sector: Manufacturing
Days Needed: M-F Flexible (20-40 hours)
Pay: $11 per hour
Roles & Responsibilities:
Greet applicants and assist in administering the application process
Respond to online applicants and schedule appointments to take pre-employment test, apple, and interview
Assist in new hire orientation and responsible for completing all onboarding tasks in the HCMS
Process termination paperwork, complete separation notices and launch exit interviews
File and upload employee records to electronic files within the HCMS following appropriate compliance for each document
Communicate with employees regarding various company announcements and serve as the point of contact for monthly newsletter consent from leaders and assist in formatting the newsletter
Update and correct employee information(i.e, employment, payroll, benefits, and performance)
Create and/or charge work schedule templates for employees based on supervisor requests
Assist in the performance review process for all employees by launching reviews via the HCMS, responding to questions from supervisors and employees, developing job aids (written and instructional videos), and running competition reports.
Run various reports and provide information to respective key stakeholders
Point of contact for online UAC Store, to include, tally UAC $ each month and send report to vendor, coordinate getting UAC merchandise to the respective employee who purchases, organize and manage the bulk-online UAC store items housed in the Canton warehouse
Assist in the planning and preparation of various employee appreciation events (employee luncheons, UAC sponsored 5ks, employee picnic, and monthly birthday recognition
Other duties as assigned
Internship Position #3: General Production Intern (minimum age 17)
Number of positions: 2
Sector: Manufacturing
Days: M-F Flexible 20-40 hours
Pay: $11 per hour
Responsibilities: 
Shop vac all floor and sunken floor rails
Pick up all trash inside and outside
Repaint trash can locations
Set up tools (with corner organizers) at every workstation, with each tool identified to match the workstation
Repaint guard rails yellow
Clean cobwebs off the west walls
Clean training room
Other duties as assigned
Qualifications:
Interest in work activities that include practical, hands-on problems and solutions
Using hands and arms in handling, installing, positioning, and moving materials, and manipulating things
Proving information/updates to supervisors, co-workers
Observing, receiving, and otherwise obtaining information from all relevant sources
Willingness to take on responsibilities and challenges
Noticing a problem and figuring out the best way to solve it
Great communicator/customer interactions
Attention to detail
Adaptability/Flexibility