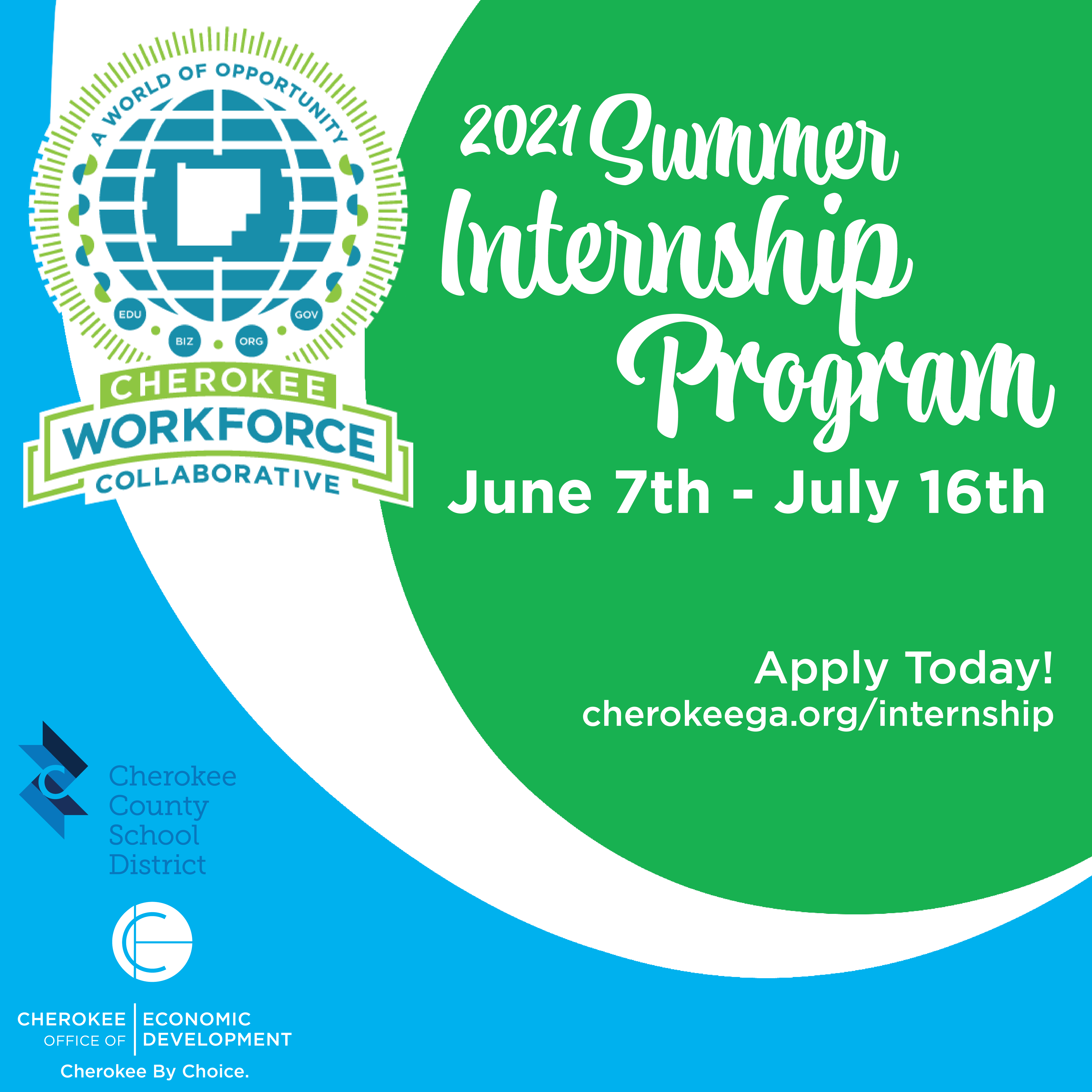 Want to get paid for gaining real-world experience and networking with some of Cherokee's top employers? Then the Cherokee Summer Internship Program may be the right fit for you! This competitive 6-week program is open to all rising high school juniors and seniors who are interested in taking their skills to the next level. Graduating seniors are also invited to apply. This interactive, mentorship-based programs runs from June 7 – July 16, 2021.
Cherokee Summer Internship Program Benefits
6 weeks of paid, real-world experience
Welcome orientation/employability skills
An interactive work environment focused on mentorship
Early exposure to a wide range of career pathways
References for a job well done
Invaluable, resume-building work experience
A rewarding summer job close to home
How to apply?
To apply, click HERE. Important: All applications must be signed by both the applicant and a parent to be considered.  Additionally, applicants must write a short 200-400 word statement on why they want to be considered for the program as part of the application process. If you don't see a position you are interested in now, please continue to check back. We anticipate additional internship opportunities becoming available soon.
2021 Employers
Internship #1: Administrative Assistant/Receptionist (CLOSED)
Internship #2: Shop/CNC, Robotic Welding, Laser (CLOSED)

Internship: Summer Camp Counselor (Closed)
Internship Position: Mechanical Assembler (Position is filled)
Internship Position: Machine Assistant 
Sector: Manufacturing
Pay: $10
Work schedule: 7 am – 3:45 Monday – Friday
Role & Responsibilities:
Feeding corrugated sheets into the machine
Putting pizza bundles through a shrink tunnel
Learning machine safety, food safety, and good manufacturing practices
Daily cleaning of warehouse
Qualifications:
Strong work ethic
Punctuality
Able to be on feet for 8 hours a day and lift 40 Ibs
Pillow Perfect
Sector: Manufacturing
Pay: $11.50 an hour
Work Schedule: Mon – Friday (7 am to 4 pm)
Positions: Data Entry and Warehouse Associates
Warehouse
Be able to work in a fast-paced warehouse environment
Be able to stand an entire shift
Must have attention to detail
Office 
Proficient in Microsoft Word and Excel
Must have attention to detail
Must be self-motivated
Internship Position: Millwork Worker – Must be 18 to apply
Sector: Manufacturing/Construction
Days Needed: Full-time/Summer  | 7 am – 4 pm or 8 pm – 5 pm (40 hours)
Pay: $10 per hour
Roles and Responsibilities: Entry level work in a full millwork shop – cabinet assembly, may consist of some cleaning work
Qualifications and Education:
Prompt attendance
Able to lift 50 lbs.
Must wear steel-toed boots and safety glasses
Interest in woodworking and how things are designed
Skills to be learned:
Introduction to architectural millwork
Observation of CNC Routers
Edge banding machinery
Internship Position: Production Apprentice  (Positions filled)
Internship Position #1: Accounting Intern (No longer accepting applications)
Internship Position #2: Human Resources Intern (No longer accepting applications)

Internship Position #3: General Production Intern (No longer accepting applications)